Coffee is one of the most consumed and preferred beverages everyone likes to have in the morning. As of last year, around 165.35 million 60 kilogram bags of coffee were consumed worldwide. It is evident from these statistics that many of us are not quite able to get enough of it and it is near to impossible to start our day without it. Although we can find ample coffee shops around us there is a unique kind of flavor and touch we get in that first cup we have at home, perhaps which is much more convenient, in pajamas without having to stay in line or speak coherently to other people.
Even better than it is to brew your very own coffee by using the precise kind of beans you like and how you like, with a tinge of personal touch of adding some flavors or letting it be, by leaving it plain or pouring in some of the extra milk, cream, or sweeteners to sweetened up your day. And this all can come to you in one of your favorites and handpicked cup instead of some disposable paper cup with an irksome lid. And all in all, it can be quite cost-efficient as it can save you a bundle or two.
So matter whichever the coffee maker you may choose, the basics remain the same, that the ground coffee mingles with water which squeezes out the flavor from the beans. This water then drains through the beans which are held together in a filter, so grit-free coffee can be delivered straight to your Cup, mug, or carafe. The essence remains the same, different coffee makers use their unique process to bring the best coffee to you. So here are the best coffee makers in India this year to help you have your coffee whenever you want and however you want.
Best Coffee Maker in India
| 7 Best Coffee Makers | Capacity | Power | Warranty | Buy Now |
| --- | --- | --- | --- | --- |
| Morphy Richards New Europa Espresso and Cappuccino Coffee Maker | 4 Cups | 800 W | 2 Years | |
| InstaCuppa French Press Coffee Espresso Tea Maker | 2 Cups | N/A | 1 Year | |
| Black + Decker BXCM1201IN Drip Coffee Maker  | 12 Cups | 900 W | 2 Years | |
| Tecnora Classico TCM107M Coffee Maker | 1 Cup | 1050 W | 1 Year | |
| Preethi Cafe Zest CM210 Drip Coffee Maker | 3 Cups | 450 W | 1 Year | |
| Prestige PCMD 1.0 650-Watt Drip Coffee Maker | 4 Cups | 650 W | 1 Year | |
| Philips HD7431/20 760-Watt Coffee Maker | 6 Cups | 700 W | 2 Years | |
Check Out the Best Coffee Makers in India!
1. Morphy Richards New Europa 800-Watt Espresso and Cappuccino 4-Cup Coffee Maker
This is one proficient machine that encourages you to get your caffeine fix whenever you want, one of the best coffee makers in India. It puts your expert evaluation coffee or cappuccino inside your step in minutes. It makes an assortment of coffee like cappuccino, latte, and coffee and is additionally equipped for shedding out a decent 4 cups.
Morphy Richards New Europa 800-Watt Espresso and Cappuccino 4-Cup Coffee Maker are for the most part that you need at your home. This machine is a multi-tasker that gets you espresso as you like it. You can utilize any mix you like. It has a mean engine yet needs appropriate space for water to get in so you may require a manual squeezing.
Pros:
Hostile to slip base with the goal that you don't need to stress over a kitchen slip.
Warmth safe glass carafe so there are no blow-ups.
Non-slip hold. So you don't break your carafe.
Simple to clean
Neon light Indicator
800 W Motor
Cons:
Water Indicator is absent
Check Price
2. InstaCuppa French Press Coffee Espresso Tea Maker
In the event that you need the best morning espresso, this is one of the best coffee makers in India. It is a standout amongst other spending espresso producers accessible. It could serve six cups of espresso in one go. Along these lines, no all the more topping off and sitting tight for the espresso you are wanting for. The espresso creator accompanies a treated steel body that gives it a tough outside. It likewise has an exquisite and beautiful plan. The machine is additionally FDA endorsed and can convey up to 600ml of espresso.
Pros:
The unclogged instrument is smooth and simple to utilize.
Dishwasher safe
Borosilicate glass and steel exoskeleton makes it sturdy
Can make 6 cups in a mix.
Exquisite plan
It can likewise be utilized to mix the tea.
Cons:
Espresso beans should be pre-ground.
You have to monitor mix time; else you get an unpleasant-tasting espresso.
Check Price
3. Black + Decker BXCM1201IN Drip Coffee Maker
Black and Decker Coffee Machine is an ideal gadget to get a ready delectable espresso and have a magnificent encounter. With this astonishing espresso machine, you can keep the espresso heat as long as 2 hours of post readiness. That is the reason we have given as a standout as the best coffee makers in India amongst other espresso machines. The fresh and lightweight structure makes the gadget look ultra-savvy and hostile to slip feet base adheres to the ground level for dealing with proficiently.
At the point when you neglect to turn off, the gadget will consequently close down to guarantee security. The 1.5-liter glass carafe assists with planning 12 cups of espresso at once. It has a computerized show with 4 alternatives to control the blending procedure and the nylon channel catches the undesirable particles. When the fermenting is finished, the hot plate keeps the espresso warm until you switch off totally.
Pros:
Programmed shut-off element
Comes at sensible costs
Against slip feet and nylon channel
12 cups one after another limit
Ideal for home and workplaces
Electronic control switches
Advanced showcase and water level pointer
Sponsored with 2-years guarantee administrations
900 Watts power
220-240V working voltage
Cons:
The espresso channel isn't viable.
Check Price
4. Tecnora Classico TCM107M Coffee Maker
If you need the best morning espresso, at that point, you need a TECNORA espresso creator at home. It is one of the best coffee makers in India amongst other espresso creators accessible in the market and can serve 6 cups of espresso at one go. This smooth, reduced, lightweight espresso machine is furnished with an amazing electromagnetic solenoid siphon to remove a full espresso season, ensuring a total bistro engagement at home. Tenderly push on the siphon control change to gather coffee and mood killers when arrived at the ideal amount. The 1.5-liter water tank can be disconnected by sliding upwards to top off the tank when required.
Utilizing the temperature controller switch, you can alter the water temperature excessively low/high for mixing flawlessly. It has an auto-off component that closes down the espresso creator consequently following 25 minutes.
Pros:
Worked in liner ramble
Heartbeat water conveyance framework
Shrewd auto-switch off element
Ground-breaking 15 bar Italian siphon
2 years of thorough guarantee
5liter (6 cups) separable water tank.
Cons:
Produces commotion and vibrates while being used
Somewhat costly to buy
Apprentices may confront trouble in working
Check Price
5. Preethi Cafe Zest CM210 Drip Coffee Maker
The Preethi Cafe Zest CM210 Drip, Coffee Maker. This one is additionally outstanding amongst other best coffee makers in India that you can pick. It accompanies moderate evaluation. Alongside that, there are a lot of different highlights as well, which will astound you. The espresso producer accompanies a water level marker. Alongside that, you get the chance to see the counter trickle framework. Just as it accompanies the warmth delicate warm breaker.
Additionally, you will likewise get the switch with power pointer and ergonomically structured chrome plated handle. What else? The espresso producer is likewise offering you one year of guarantee. Also, it expends around 450 watts of intensity.
Pros:
Water level marker.
Hostile to dribble framework.
Moderate
Cons:
Normal assembled quality.
Check Price
6. Prestige PCMD 1.0 650-Watt Drip Coffee Maker
On the off chance that you are searching for a modest yet best coffee makers in India. At that point, you should look at the Prestige PCMD 1.0 650-Watt Drip Coffee Maker. This one accompanies a reasonable cost. Alongside that, it has a lot of astonishing highlights. The espresso producer accompanies a propelled plan work channel that encourages thick decoction for the true taste of solid South Indian channel espresso. Just as you get the opportunity to see a translucent water measure to check the water level. So you can check the water level rapidly just as it is very simple to utilize.
In addition, it accompanies the blending bin with a lifter handle that encourages the simple evacuation of the channel. You are additionally getting an enemy of dribble valve that forestalls trickling when the carafe is evacuated. Consequently, it is anything but difficult to keep up and advantageous to utilize.
Pros:
Propelled work channel.
Hostile to trickle instrument.
Water level pointer.
Cons:
Temperature control inaccessible.
Check Price
7. Philips HD7431/20 760-Watt Coffee Maker
The main recognizable thing about the Philips HD7431/20 is its sleek plan. It has been made to look smooth and reduced. The gleaming dark get done with a dim concealed straightforward glass carafe gives it a tasteful look that makes it something other than an apparatus in your kitchen. If your cutting edge kitchen has all the most recent hardware with rich fabricated, at that point this is one of the best coffee makers in India is generally appropriate to add to your kitchen's appearance.
Despite the fact that the limit is low when contrasted with other espresso creators, its 700 watts power innovation causes it to mix around 4 cups of espresso in under 10 minutes. Also, it is lightweight contrasted with other espresso producers in this rundown, which makes it an effectively compact machine that is ideal for home and office the same, exactly a feature of the best coffee makers in India.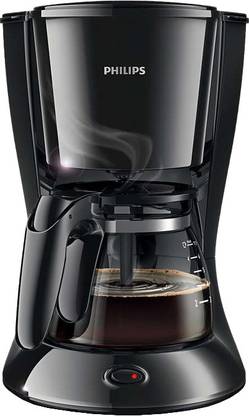 Pros:
A polished and refined look
Without slip plan
Have a place with a solid brand
Quick fermenting speed
Light in weight
Cons:
Makes a ton of clamor while working
No re-warming alternative accessible
Check Price
All the above mentioned products in the list of the best coffee makers in India have been selected after a thorough analysis of a variety of products from the same class. Product reviews have been pinned down after trial.
You might want to check out the best atta dough maker as well.
Coffee Maker Buying Guide
According to a study conducted in 2018, it was found that 79% of people prefer to drink coffee brewed at home. For that, they need a coffee maker that comes in all sizes and shapes engineered to meet your specific needs, so here are different types of coffee maker which you must acquaint yourself with before you bring in another coffee maker for you.
Types of Coffee Makers
1. Drip Coffee Makers (electric)
Drip coffee maker has been for over the years a popular staple coffee maker for many households as it brings together a combination of simplicity affordability, durability, and the ability to quickly make coffee for 2-4 Individuals at a time. It can make an easy pick as it is affordable easy to use and very much reliable. But sometimes if the plate gets very warm, it may get the coffee to sit in the pot.
2. Thermal Coffee Makers
The operating of thermal coffee maker is similar to that of the drip coffee maker, but it has an edge above the former one as it can be instrumental in brewing your coffee into an insulated thermal carafe. This ensures that your coffee is hot for hours together without getting cooked as it does not sit on the heated surface, which can eventually turn your coffee into a thick and bitter brew. But this comes at a price that is a little more expensive than the standard drip brewer.
3. Espresso machines
Although home espresso machines may cost you a little more than the other types of household brewers as well as they can be more demanding and labor-intensive. But all be it, it is worth it all, if you are a diehard lover of espresso. And if you have got the tech technique but downright which will help you to extract the rich, delicious shots of brew like your favorite coffee successfully. Apart from producing great espresso it can also aerate (froth) milk for you. But it is a bit pricey and demands you to learn its technical aspects. In addition to this, it is a bit labor-intensive. too.
4. Percolators
Percolators make up for a fun brewer because it is amusing to watch and listen to it as they steam away during the brewing process. In addition to which they also tend to make exuberant and a pot of coffee with a distinctive flavor. But they can be quite cumbersome owing to having plentiful parts to assemble and needing of cleaning it more often than drip brewers.
5. Siphon Coffee Makers
Siphon coffee makers are also popularly known as the vacuum pot coffee makers, all be it may not be of very much practical use for every day because of its ample of delicate parts and very time-consuming as well as labor demanding nature of this coffee maker. But you can standby the testimony of many siphon pot users who swear by the wonderful taste that it produces. Apart from this it also makes up quite an eye-catching piece for houseguest while you brew your flavorful pot of coffee.
6. French Press Coffee Makers
The French press is also referred to as a "press pot" or "plunger pot," which is very user-friendly, easy-to-use easy to clean as well as a portable coffee maker that you can carry with you while traveling. A stronger and elegant metal filter mesh is used in this press pot. This enables it to squeeze out all the coffee flavor oil into your cup instead of letting it trapped in a paper filter during the brewing process.
7. Moka Pot Coffee Makers
If you are an espresso fan but cannot afford a full-blown home espresso machine then this Moka pot is the right pick for you. Owing to its simplicity and cost-effectiveness it the best alternative of the same. Which will give you a thick, rich, and flavorful brew that you can blend with many of the options available that go well with it such as creamers, flavored syrups, or frothy steamed milk. The Moka pot is also an acclaimed brewing device of campers who likes to relish it on a camping stove or over the fire.
8. AeroPress
AeroPress is yet another great coffee machine that resembles a giant syringe that can help you in making unusually smooth espresso-like coffees by using your hand without making you spend a large chunk of your money on some high-end and cumbersome machine. It is very convenient to use as well as easy to clean and is very compact that you can even make it your traveling partner. 
What to Look for Before You Buy a Coffee Maker 
Choosing a coffee maker can be a cumbersome task if you do not know the know-how of the coffee maker such as what features we are looking for and having a clear idea of what you desire in the daily dose of your morning coffee. For that to be clear you should be knowing whether or not you want them to be in your coffee maker as there are a variety of people with a wide variety of needs. so here are some factors which you should be taking into consideration while going shopping concerning a coffee maker.
1. Capacity
While deliberating upon the capacity of your coffee maker, you should be pondering over how many people in one's household will be drinking coffee or usually do drink coffee on average? As if you are going for buying a single-serve which will translate into going through the tedious process of making a cup five times before you walk out of the door, and the machine which was made to serve as a convenience model will go flying out of the window.
Perhaps, if you are the only one who has a taste for coffee in your house, and one cup of coffee will suffice the need of waking you up, then a single-serve coffee maker will be the best pick for you.
In some situations, being able to make a pot of coffee that produces 4-10 cups is much more convenient than dealing with making just one cup or a shot of espresso one-at-a-time. So, think about who all in your household will be drinking coffee and how much they will likely drink.
But in another scenario, it is far more convenient to be able to brew a coffee pot that can at a time be able to produce 5-10 cups for multiple servings rather than making up just one cup or a shot of espresso at a time. Hence, you should be just thinking about the ones in our household who be sipping this beverage and how often they are likely to be drinking it. But then again you should be keeping in mind that K-cup pods can be pretty expensive, so if and only if you are a coffeeholic then only you should be considering buying this.
2. Type of Coffee
Here, lays down one of the most important considerations you should be taking into account. That is the "WHY" behind getting your coffee maker. As in if what you typically look for when you enter a coffee shop? Let's say if you are a cappuccino or latte person and trying to be careful with your money by resorting to a coffee maker then you should be asking yourself that will be even using it? and even if you do will you even be able to enjoy the coffee you will be brewing by yourself?
These are the questions that you should be asking yourself before you get home the coffee maker that will give the coffee you desire and the coffee you enjoy.
3. Cost
There is a good chance that the coffee which gets you spinning, would demand you to spend several hundred dollars on that espresso machine, which can be feasible or cannot be and you might have to end up making some compromises.
If that is the case, it is better to go for a unit that fits in your budget. Although there might be a lesser bell or two as the more feature you will go looking for the higher will be the chance of that machine to end up out of your budget range.
Be it a costly coffee maker or a modest one, you should be considerate about both the upfront as well as the long term costs of whatever coffee maker you will be taking home with. One golden rule to follow here is to spend a bit more now against getting a quality product instead of spending on maintenance now and then in countless installments.
Ultimately the bottom line here is that you should not settle on a coffee maker that you did not need to begin with. Because that will inevitably take you down the road every day in the coffee shop waiting for your cup of coffee.
4. Convenience
Like most people, if you are also the one who likes to have a freshly brewed cup of coffee alongside the sunrise then you should be not taking into account going for any of the coffee makers that are not user-friendly and complicated to use. As moreover if you are not very enthused about making coffee rather than drinking it, which will be the very first thing you will be doing in the morning. All you will be interested in is just sticking the pod followed by pushing the button to refresh yourself with a cup of your favorite coffee.
You know your habits better than anyone. Will have to put a little more time into making your morning coffee become a deterrent to using the machine you buy?
No one knows your habits better than you, so you should be considering that weather putting a little more time in the coffee makers will be feasible or will you be simply ending up going to a coffee shop to save your time. As if we will be spending more time making coffee in the morning rush it will be indeed more of a deterrent from using the machine. Therefore you should be strictly considering how much time you usually give to get ready and how much of it is in spare. This will be of much help when we will be calling our final decision on it.
Another thing to consider is are the amazing automatic brew pot which saves all the hassle of brewing it for ourselves as it can automatically brew a coffee pot for you at any given time which you decide. You can get your hand on ample coffee makers models that are programmable to brew a pot at a certain time, whenever you jump out of the bed to start your day full of zest
No doubt it may come down heavily on your budget, but that is something one really needs to consider.
5. Counter Space
No matter how big the kitchen you have, every kitchen has its limited space and there is a limit to how many appliances will be able to fit on the kitchen counter. And evidently, there will some coffee maker which will be occupying more space than the others, so we should take it a check on what you will be getting in you kitchen countertop should be worth it all
Therefore you should be inspecting the dimensions of the coffee makers you are considering buying. Once you are well acquainted with it, it will help you a lot in the buying process. As you will have a better understanding of where it will be settling up finally and how much space it will be taking up.
Lastly, you should not forget that you have to tuck away your coffee maker in a cabinet or somewhere similar after it has served its purpose, which will make it less likely to be used consistently if it is bulky in size.
Hence you should make sure what you are buying will be fitting in comfortably and will be easy to use. If we are not sure of it then you should take a step ahead and familiarize yourself with the process of returning the product from wherever you made its purchase. This will make us convenient to return the product and help tackle problems you never saw coming.
Extra Features to Consider
Nowadays there is such a wide range of coffee makers available to pick from that especially when are growing more and fonder as well as specific about how they want their coffee to be. Owing to this growing demand the coffee makers are coming up with innovations and different features every often. so you can distinguish a coffee maker made for you depending upon what you typically like to see in a cup of coffee, so these are some of the features that are worthy of keeping an eye on when you are getting the coffee maker you want
6. Programmable Settings
If you want to set your coffee and leave it up to brew and as you have previously mentioned, then the same coffee can help you determine its settings beforehand and let you brew your coffee automatically. This feature is very handy and will help you in many ways and scenarios
7. Built-in Grinder
Do you prefer your coffee grounds fresh? Depending on who you ask, freshly ground beans produce a better-tasting cup of coffee. Having a grinder ensures you're always using the freshest ground beans. Of course, you can always buy a coffee grinder separately, but having one that's built into your coffee maker adds convenience and helps you save counter space.
8. Auto Shutoff
Everyone can agree that we all have experienced that moment when we were overwhelmed by the morning rush and have forgotten to turn off something important which we should not have forgotten while running out of the house. With an auto-shutoff feature, you can now make sure that your coffee pot is not still running when you come back home. This will surely help you to be focused on lots of other things that are important and not fret over recalling or calling up home to ensure that you switched off your coffee.
9. Multiple Warmers
This can be of much use if you are planning on installing your coffee maker in commercial settings where making up multiple pots at a time is the routine. Hence bringing in a coffee maker that has multiple warmers, that is worth considering to keep each pot hot and get everyone rolling up in the workplace.
10. Water Filter
The quality of water is even something that can make a lot of difference in the brewing process and can actually lift up the taste of your regular cup of coffee. But this is a feature that you will mostly get to see in top-line coffee makers. But this doesn't keep it from being one of the most popular features that people consider while buying a coffee maker.
11. Steamer/Frother
If you are fond of having steamed milk in your coffee, having a Steamer or Frother can make things easy for you as you can get the kind of drink you want not only at a coffee shop but at the comfort of your home. Usually, it is normal to find these in most espresso machines nowadays, even in the models falling in the lower spectrum of price. But, if it's only black coffee that you desire then you may not need this.